I just love Enjoy Life Foods! As you can probably imagine, I was more than happy to sample their newly reformulated chewy bars. Enjoy Life Foods kindly sent me a box of each of their four tasty flavors of chewy bars. Before now I had only ever tried the very berry flavor, so I was eager to give the others a try.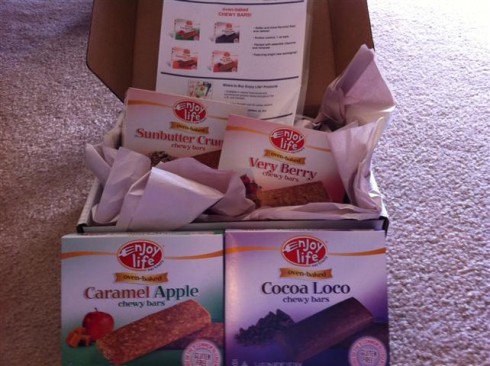 I wasn't too surprised that I enjoyed each flavor since I enjoy all of their other products. I was a little surprised at how small of a portion they are… however, they are more filling than they look like they will be and did leave me feeling satisfied. I think the very berry is still my favorite, but it sure wouldn't be too hard to talk me into having another one of the chocolate flavor.
The thing about having food allergies is that there really isn't such thing as convenience foods anymore. We never stop and pick up take-out on the way home like we used to, and most of my snacks consist of cutting up fruits and veggies. This isn't so bad on days when I'm mostly at home, but it's not so easy to manage when we're on the go. Now I can have a quick and easy snack again. I stick one of these in my purse when I'm heading out to the store or pack one with my lunch when we're going somewhere for the day. I could even see grabbing one for breakfast on a busy morning.
As always, I know I can trust this brand to be food allergy safe for me. All of their products are made in a dedicated gluten-free and nut-free facility and are always free from the eight most common allergens. If you haven't tasted Enjoy Life Foods' chewy bars yet, give them a try! Let me know which one you like the best.