I've decided that we are officially DONE with cold weather. Yesterday I started the dreaded task of removing our thick sweaters and long sleeve shirts from our closet. I'm so glad they're gone, I'm sick of feeling bundled up and claustrophobic… we are ready for Spring!
I had to warn Jesse that he should just avoid our bedroom for a while. He doesn't do well with seeing the chaos that happens during a project. Which is actually pretty funny considering how messy he was when we first met. He was sharing a two bedroom condo with a guy we knew from church. The first time I saw his room there was a pathway from the door to his bed, and from his bed to his computer. The rest of the floor was covered in about two feet of stuff (I'm not allowed to say junk). That's not to say my old bedroom was always that clean, but it sure wasn't that bad. Now Jesse often gets annoyed about messes before I do, and he can't stand it that messes often have to get worse before they can get better. I'm not sure how it happened, but his OCD has come out a bit when it comes to neatness.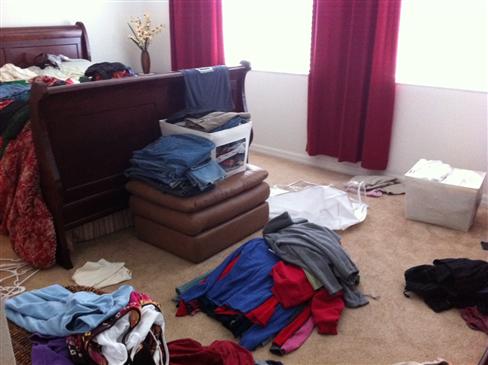 Since I was already making a mess of our entire bedroom, I figured I might as well go through the closet for clothes I don't wear anymore. I've lost a bit of weight since being on my allergy diet and had a lot of stuff that I know I can't wear that was just taking up space. There is nothing like shopping for new outfits in your own closet… I forgot about some of the things hiding in there! I think there will need to be a shopping trip in the near future to refill the empty spaces.
Of course, once you clean out one closet it just makes the other closets seem that much messier. Where does all this junk come from? How do we end up with so much stuff anyways? I guess the next step will be to see what other treasures I have forgotten about.