I was driving home from work today thinking about how lucky I am to have such an awesome husband, especially since I was really hungry and really tired.
Since Jesse owns his own business, he works from home. One of my favorite things about him working at home, aside from the fact that he LOVES his job, is that most nights he cooks dinner!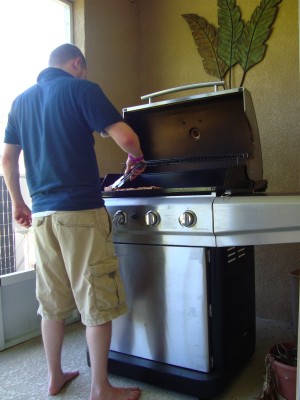 Jesse enjoys cooking, and I enjoy not having to cook when I come home from work.  He usually will plan his work day so that he is cooking while I am driving home, and then we can eat shortly after I get home.  Usually I cook on the weekends so that he gets a break.  And then I make a meal plan for the week so that he has everything we need and doesn't have to figure out what to make.  I think we make a great team. 🙂
Super yummy BBQ chicken tonight, Jesse!