Curry chicken is quick to make and very tasty. This has always been one of my favorite recipes and it's allergy approved with no changes. There aren't many pre-allergy recipes that I still make now. I made this to bring to our Bible study group last night and everyone liked it. Bonus… there is just enough leftover for us to have for dinner tonight so I don't have to cook today!
Start by spacing out the chicken thighs in a baking dish. I usually like to use boneless thighs for this recipe when it's just the two of us because it makes them easier to eat, but the bone-in ones are fine too. I used bone-in thighs last night because they are slightly cheaper and I was cooking for more people.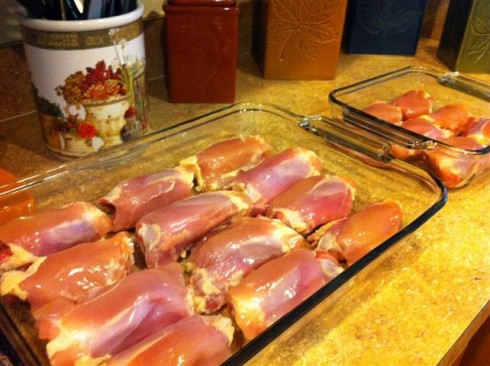 Curry sauce:
(Amount of sauce intended for one package, 6 thighs. I used more butter because I was tripling the recipe.)
1/4 cup melted butter
1/2 cup honey
1/4 cup mustard
1-2 tbsp. curry powder
Heat the butter in the microwave to melt it and then add all the other ingredients. The trick with this sauce is to get just the right smell. I usually make it according to the recipe and then have to add more curry and sometimes more mustard. I heat the sauce in the microwave for 30 seconds then smell, taste, and adjust. Repeat if necessary. It's hard to explain the perfect smell… it should smell just a little sweet, the vinegar-ness of the mustard should burn your nose just a little, and the curry should be noticeable for sure. Once it smells perfect, I add a tad more curry just for good measure. I learned this ever-so-precise way of cooking from my mother. Many of her recipes require adding enough until it smells yummy. Other people cook this way too, right?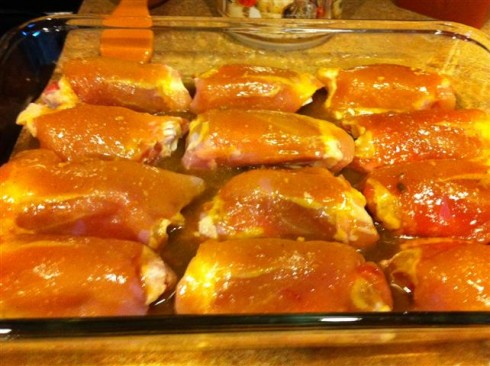 Then pour the sauce of the chicken pieces, don't drown them or they wont cook properly. Bake uncovered at 350 for approximately 1 hour. Baste frequently. I recommend serving with rice because the extra sauce is really good drizzled over rice.
Enjoy!