Mom used to have a refrigerator magnet that read "There's nothing wrong with me that a little chocolate wont fix!" There's nothing wrong with me today, but I just needed some chocolate anyways. I've never been very good at baking. Having to be so precise with the measurements just doesn't work very well for me. I usually cook by sprinkling a little at a time until it has the right smell or taste. However, these two chocolate recipes are easy enough that even I could make them.
First I decided to make cocoa macaroons. This is a recipe that came from my Grandma and Mom always would make them during the holidays with the rest of her Christmas cookies. Since they don't have any flour in them, I've decided that they need to be made year around.
3 cups oats
6 tbsp cocoa
1 cup coconut
2 cups white sugar
1/2 cup butter
1/2 cup milk
1 tsp vanilla (optional)
Combine oats, cocoa, and coconut and mix well. Then bring sugar, butter, and milk (and vanilla) to a boil. Combine the wet and dry mixtures, form cookies, and drop onto wax paper. Chill in the fridge before serving. These also freeze really well to save for later.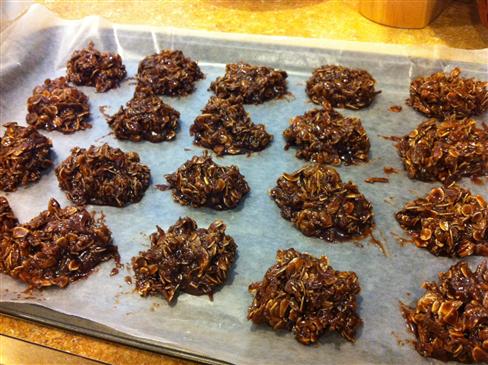 Apparently, that wasn't enough to satisfy my chocolate need. I decided today would be a good day to try out my Namaste Foods brownie mix. I think they turned out pretty good. Not quite as chocolaty as I thought they would taste by looking at them, but still very yummy. Of course I may have a biased opinion in my very chocolate needy state of mind. I think they would be even better with chocolate chips sprinkled on top. This mix was just as easy to make as regular brownies. I only needed to add an egg, some oil, and water.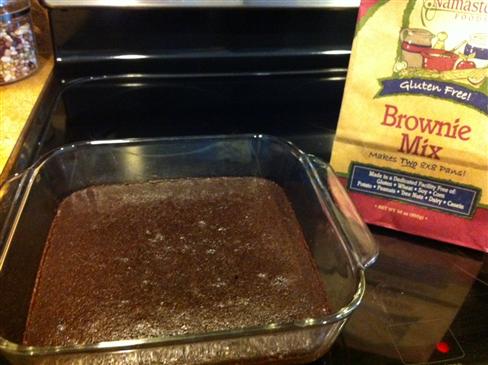 I tested out both of my recipes as soon as they were ready and I think I'll be going back for more after dinner. A very successful and chocolaty afternoon!