This is a perfect meal for a cold, winter day. I had this tasty recipe at a friend's house several months ago, and have made it several times for myself since then. I believe it originally came from Real Simple. I like that it has many ingredients that I never would have thought to put together. In fact, I hadn't tried chickpeas before this recipe and this stew renewed my love of raisins!
Start by cooking onion in oil until soft. I also added a little minced garlic, it just seems automatic to start a recipe with onion and garlic.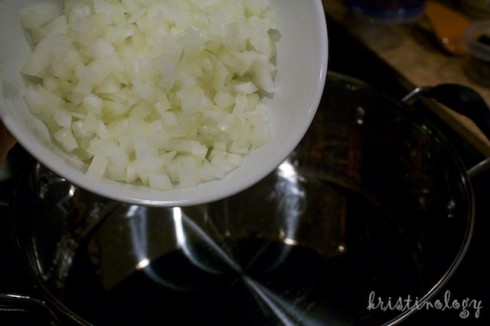 Add cumin, ginger, salt, and pepper and cook. Stir until fragrant, plus one more minute.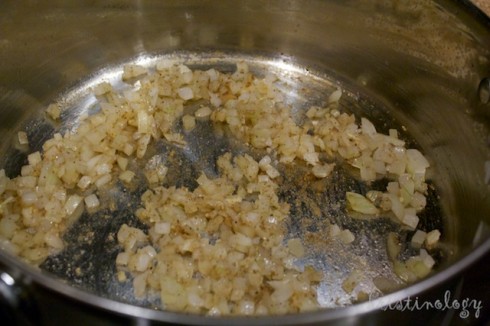 Add tomatoes, chickpeas, cauliflower, raisins, and a half cup of water and bring to a boil. Reduce heat and simmer. Stir occasionally until veggies are tender and liquid is slightly thickened.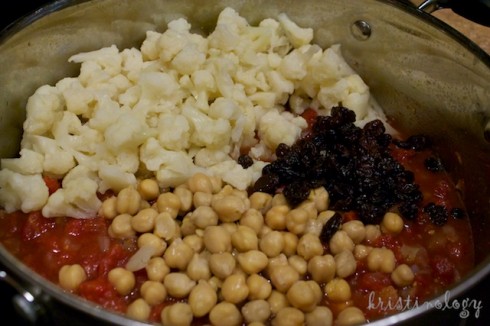 Fold in spinach and cook for another minute or two. I actually use both frozen cauliflower and spinach in this recipe. And since the other main ingredients are canned, I can always have everything I need on hand for when I need a quick or last minute dinner.
The stew can be served over rice or is also great on its own. It's perfect for the holidays because it looks kinda Christmassy!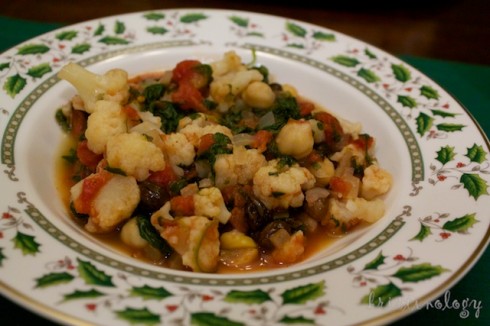 Here's the recipe:
2 tbsp olive oil
1 medium onion
1 1/2 tsp. cumin
1/2 tsp. ginger
1-28 oz. can tomatoes
1-15 oz. can chickpeas
1 head cauliflower, cup up
1/2 cup raisins
1-5 oz. package of spinach
rice to serve over
almonds to sprinkle on top (optional)
Enjoy!