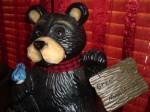 Day 2 of vacation started off with free breakfast at the hotel.  Then we took off driving again to make it to the cabin.  Today was a much shorter driving day than yesterday.  I slept a lot of the way today, and Jesse did an awesome job keeping us alive on the crazy roads.
The last part of the drive on the way here was gorgeous!  We were on windy roads through the mountains.  Cliffs on one side of the road, and river on the other.  We put the windows down for a little bit to feel the breeze and listen to the river running over the rocks.We don't see scenery like that at home.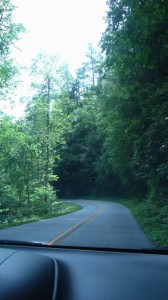 We made it to the cabin shortly after 3:00.  We had seen pictures online of what the cabin would look like, but it looks even so much nicer in person.  We have plenty of room for all 8 of us to spread out.  There will definitely been plenty of relaxing going on here!
After we had explored around the cabin, we made a grocery run to buy all of the food we will be cooking for the week.  Mom scheduled out for everyone to take turn preparing and cleaning up after meals.  Andrew and Nicole (my brother and his girlfriend) took their turn tonight and made us pizza and salad.  And now we are sitting on the comfy leather couch in front of the fire.  I think this is a great family vacation choice.