For quite a while now my mom and especially my sister have really been into shopping for bargains at resale/consignment stores.  Me… not so much.  I always thought it was way more trouble than it was worth to find something I would like.  Turns out I had a little something to learn from my little sister. 🙂
They had recommended that I really needed to check out a consignment shop that they had recently discovered because it sold many clothes from stores I normally shop at.  So, Jesse I were on our way there when he surprised me by pulling off the road at another resale store that had just opened up near our house.  I was not very excited to think about looking for anything there, but I went along with it because it was a nice idea he had.  I was very surprised at some great finds.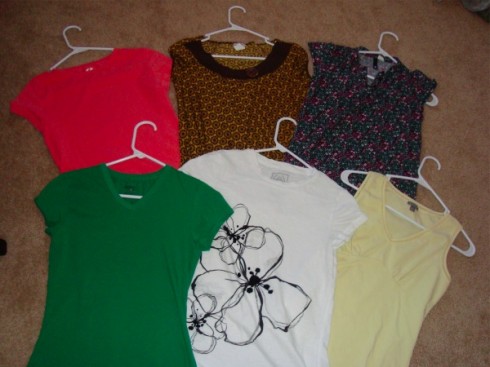 Almost all of their tops were $4.07, each skirt was $4.57, and a pair of shorts for $3.77. You can barely tell that everything isn't new, and you can't beat the prices! Can you believe I got all these for $42?? I told my sister I was always shopping at resale shops from now on. That got me a fist pump and a YES!! She finally won me over. Why pay full price?