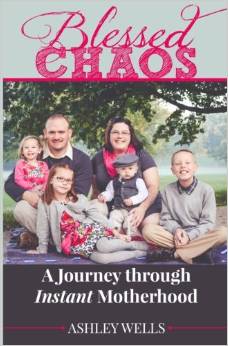 Being foster parents is the simultaneously the best and the most difficult thing Jesse and I have done together. In total, we have loved and cared for eighteen children. Some only stayed one night and some stayed months. We have learned so much from each one of the children we've had in our home.
Even though we went through foster parent training with a fantastic instructor, it's hard to ever really be prepared for how much "blessed chaos" can arrive in your home instantly. In her book, Ashley Wells, does a great job describing what day to day life can look like when you are involved in the foster care system. My husband and I could so easily relate to many of the situations she shared about in her story. I love how open and honest she is with her struggles and how she and her family had to work through them.
Back when we were dreaming of our first foster child placement we were busy decorating bedrooms and buying clothes and toys. We were thinking about how we would do as first-time parents to the child who happened to need our care and home. And although we learned about trauma and the behaviors that we might expect with a child coming from a traumatic background, that wasn't in the front of our minds as we accepted the call for our first little boy.
On top of the parenting aspect of foster care, which every new parent deals with, we were also trying to figure out what was normal kid behavior and what was traumatized kid behavior. Then we also had to learn to deal with the constant flow of licensing workers, case managers, guardians, and therapists coming to our home… sometimes unannounced, as required. And then there are also extra appointments, family visits, staffings, and court dates to attend.
I appreciate and was encouraged by the honesty in Ashley's writing about just how crazy this foster care life is. At times I felt like I could have reading my own story. I would highly recommend Blessed Chaos to those involved in foster-adoption or those considering or just starting out on their foster care journey. It would be a great read for friends and family wondering what it's really like to have children brought to your door and have to suddenly learn how to best care for them.
I'm honored to have received a copy of this book and to be able to recommend it as a great read. Get your copy of Blessed Chaos today!