Lately I've been really excited about trying new foods and new recipes.  We sure love our steak and potatoes or some salmon and veggies, but it doesn't hurt to throw in some less expensive meals in the mix too.  With our old easy choice of pasta dishes off limits, I'm always on the lookout for new, cheaper meals that are also filling.
I'm not always a huge fan of tuna, but we really liked this one from Taste of Home.  It was quick, easy, and… no cooking.  It's perfect for summertime when you don't feel like sitting down to a hot meal.  It was very filling and made for yummy leftovers too.
Mediterranean Tuna Salad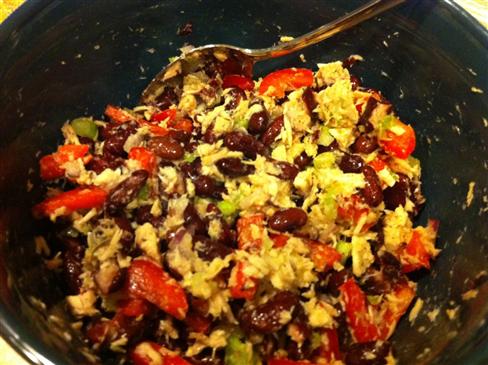 Serves: 4
Preparation time: 25 minutes
Ingredients:
1 15- to 19-ounce can beans, chickpeas, black-eyed peas or kidney beans, rinsed
2 5- to 6-ounce cans water-packed chunk light tuna, drained and flaked
1 large red bell pepper, finely diced
1/2 cup finely chopped red onion
1/2 cup chopped fresh parsley, divided
4 teaspoons capers, rinsed
1-1/2 teaspoons finely chopped fresh rosemary
1/2 cup lemon juice, divided
4 tablespoons extra-virgin olive oil, divided
Freshly ground pepper, to taste
1/4 teaspoon salt
8 cups mixed salad greens
Preparation:
Combine beans, tuna, bell pepper, onion, parsley, capers, rosemary, 1/4 cup lemon juice and 2 tablespoons oil in a medium bowl. Season with pepper. Combine remaining 1/4 cup lemon juice, 2 tablespoons oil and salt in a large bowl. Add salad greens; toss to coat. Divide greens among 4 plates. Top each with tuna salad.
My changes:
I picked kidney beans, mostly because they were most colorful in contrast to the tuna.  I skipped the capers, I looked for them at the store but I didn't know what they were or where to find them.  I also added celery, since I had it out for another recipe I was making and it's fun to use the chopper.  Instead of using the tuna salad on top of salad, we used our new favorite idea of using lettuce wraps.  We rolled the tuna salad inside iceberg lettuce leaves and ate them like a sandwich wrap.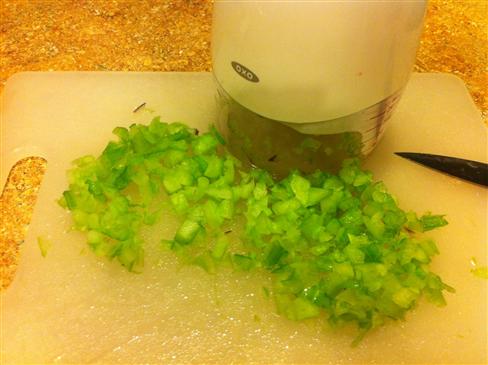 Try it out, I think you'll like this one!