Jesse told me on the night before Valentine's day that he wanted to take me shopping in the morning for an upgraded engagement and wedding ring. I was pretty surprised because we usually don't make too much of a deal out of Valentine's day. Jesse said that he wanted this gift to also be an extension of our anniversary since we were traveling then and couldn't do both at the same time.
This isn't the first time we've thought about finding a replacement. Our first rings have endured some injuries. They are perfectly pretty rings from Marks & Morgan Jewelers. However, the entire setting on my engagement ring happened to break off a couple of years ago. It happened while I was driving and I have no idea what I did to it. I called Jesse as soon as I noticed it and asked him to start searching everywhere around the house for it. Then when I got to work I realized it was on the seat in the car. We've since had it repaired, but it doesn't quite look the same. Jesse's ring is missing one of the inset diamonds on his wedding band. We plan to replace his at some point too. He felt like he really wanted to buy me a ring that he felt proud of.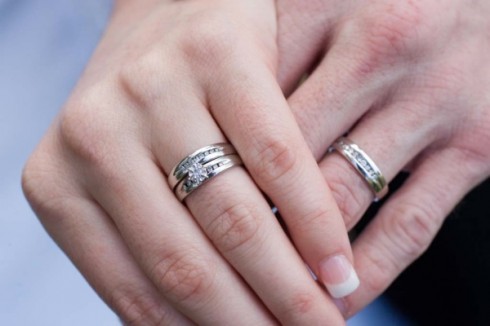 Honestly, as much fun as that sounded, my first reaction was that we probably didn't need to spend money on something like that right now. Then he sat me down and told me how much he had been thinking and planning for this and how much it would mean to him to be able to buy me something nice like this. He reasoned that he almost never gets to take me out for dinners anymore, and we've never been much for big, fancy vacations. He even went through a couple of options that he had found online that he thought I might like… he really had been thinking ahead on this!
My second thought, after being fairly persuaded by his argument, was that I truly did have an attachment to my current ring. After all that's the ring he actually proposed with and the band he actually put on my finger at our wedding. I know it is a relatively inexpensive ring, but it was a big sacrifice for his budget at the time when he bought it for me. Those rings have a huge sentimental value to them. I really got sad to think that I wouldn't be wearing it anymore.
After giving it some thought, we decided to at least do some shopping to see if I found anything I was interested in. We didn't have to look for too long in the first store to find one that I LOVED (and happened to be in our budget). We decided that we might as well look at the other jewelry store choices since the stores were right there. The second store had nothing that jumped out at me. The third store had several that could have been possibilities, one in particular that that was very unique… but even as I was wearing it I couldn't stop thinking about the first ring. We then left the mall and went home for lunch and for Jesse to take a couple of business calls.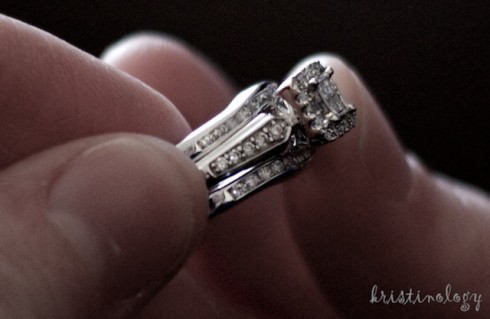 By then I was sure that the first ring at Kay Jewelers was the one I wanted. It was perfectly "me." Jesse had to re-convince me a couple times on the way back to the mall that he really did want to spend money buying me something so special. I really do love thrift store shopping now and I've become so used to that pricing that it's harder for me to spend normal amounts of money anymore. So you can imagine how exciting this purchase was!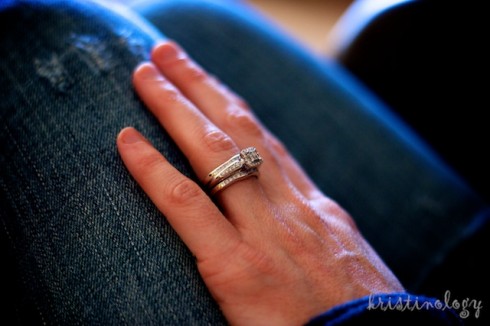 I just absolutely LOVE it! I love that it's similar in style to my first ring. Jesse really wanted something that had a grouping of five diamonds in it somewhere for our fifth year of marriage. This one does, five small diamonds on either side of the engagement ring. I love that the wedding band fits around both side of the engagement ring. Jesse was overjoyed to buy the ring for me. Plus, he even managed to get a discount off the entire set! I can't wait until it's back from getting re-sized to that I can stare at it all day.
Thank you SO much for my new ring, Jesse! I love it and I love you!!