Sometimes projects are planned and organized and completed efficiently. Sometimes… they are not. Sometimes they jump out of nowhere and demand your attention at the most inconvenient times. This was one of those unexpected projects.
We were finishing eating dinner and cleaning up when we sent A upstairs to change into his pajamas. He had not been compliant about anything all day and this request was no different. After some arguing he finally did decide to go upstairs.
Not more than a minute later we heard a large crash from upstairs. We jumped up from the table to go see what happened. By the time we got to the bottom of the stairs, A had started to cry. So then we started running even faster up the the stairs to his bedroom. I was sure we would find that he had either trashed something or hurt himself trying to trash something. We race down the hall into his bedroom where he is standing, perfectly fine and safe, wondering why we look so freaked out.
After seeing that everything was fine in A's room, Jesse wandered down the hall to the laundry room. That was the problem! After living here for five years they shelf in the laundry room decided to come crashing down. We hadn't been adding more weight to the shelf, it was just done being there. There was no serious damage, it was just so loud because the shelf with all the contents had crashed on to dryer. A reenactment of what we found: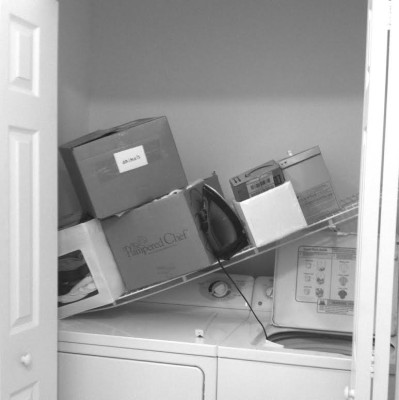 The next morning started with Jesse planning to patch up the wall and install a new shelf. A few short hours later the scope of the project had changed drastically to include many more ideas for a whole new laundry room makeover!
To be continued, after project completion…