The Outrun CF virtual race was this weekend. Did you participate? We did… well kind of.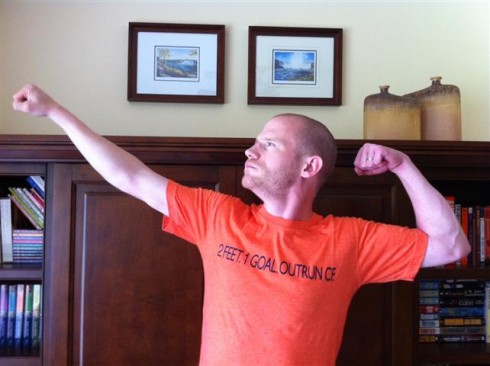 When we signed up and bought the shirt we had every intention of working our way up to being able to run that day. But then Jesse had to have a minor procedure done on his foot, making him unable to train for the run. Oh well. Neither of us are really runners anyways. We've tried to be, knowing that it would be good exercise for both of us, but I've never been able to stick to running and running doesn't agree too well with Jesse's lungs anymore. We choose other ways to get in our exercise these days.
We did, however, make an effort to cover a good distance walking this weekend. On Saturday we went to a huge community garage sale. We got in a good amount of walking throughout the different neighborhoods. On Sunday we had planned to walk either around our neighborhood or around the outdoor mall near our house. Then we got a last minute invite to Busch Gardens with some freinds, so we definitely got a good amount of walking in going from one end of the park to the other for the rides we wanted to get on. We got in at least two miles between the two days, according to Jesse's Nike Plus sensor.
So our Outrun CF weekend didn't go quite as we planned. In the end, Jesse thought it was just as well… seeing as how we didn't let CF stand in the way of what we wanted to do with our weekend. He outran CF by keeping up with friends and activities on a busy weekend. Take that, CF!!