May is Cystic Fibrosis awareness month.

Did you know these CF facts?
30,000 children and adults have CF in the United States.
More than 10 million Americans are symptomless carriers of the defective CF gene.
The disease occurs in one of every 3,500 live births of all Americans and about 1,000 new cases of cystic fibrosis are diagnosed each year.
I wrote last May about the history of CF, how people with CF are affected by germs, the special diet that many people with CF have to follow, and the treatments that people with CF do to keep their lungs as healthy as possible. Check out these posts or visit the Cystic Fibrosis Foundation to learn more about CF.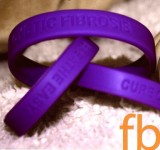 Also… we are still selling Cystic Fibrosis awareness bands for only $1.00. A portion of the money we raise is donated to the Cystic Fibrosis Foundation to help find a cure. Order one today and show your support with your purple band!
There are lots of other ways to raise money for CF research… I plan to share several other ways to help over the next couple of days.