Last week Jesse had his annual CF clinic visit. For the most part, he got a great health report! His PFTs were down a couple points, but the doctors said that a small fluctuation like that was nothing to worry about. Jesse was also very encouraged to hear that his lungs sounded perfectly clear. He said it has been years since he hasn't had "snap, crackle, and pop" when he takes a deep breath.
But the part that I found most interesting was the results of his blood work. One aspect of CF is that nutrients from food are not well absorbed by the body. This is part of the reason many CFers, like Jesse, struggle with weight gain. However, it seems that our recent switch to the caveman diet had an extremely positive outcome on the amounts of essential vitamins Jesse is absorbing. Not only are we both feeling so much better eating this way, but I think this is the first time in a long time that his blood levels for almost everything was in the normal range. How awesome is that? I guess eating healthy food does make you healthy. It's nice to have proof that this is helping him to, since it SO much work!
Now we are half way through yet another busy weekend. The days fly by so quickly. Jesse has been super busy working so many hours on all the websites he needs to have done before Thanksgiving. But we've had a good weekend so far. We had my Mom over for dinner last night. We talked about food planning for our holiday meals and about how neither of us is allowed to eat these foods anymore. She has just found out that foods and other products high in nickel is what is giving her so many skin irritation problems. We went back and forth over whose food allergies were worse. In the end, we mostly decided not to change anything on our holiday menu and pay the consequences later. All those recipes are too yummy to miss out on! Jesse fell asleep on the couch, I guess he is tired of talking about allergies… don't know why?
We did get a little break today though, between errands. We stopped by Village Fest for a while. It was just a little community event with food, music, and craft booths. We got to hear the church worship band play, which my brother is a part of.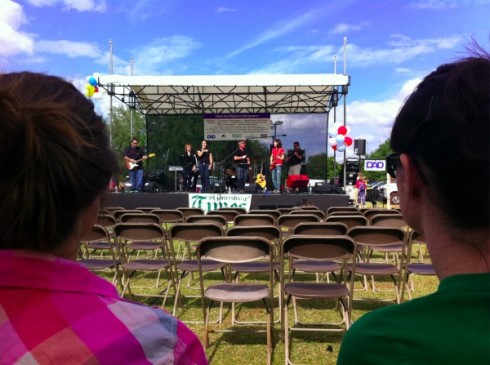 Then on the way out Jesse got a caricature done of himself, which turned out great. I had one done years ago, so no we both have one. Now we just need to get frames.