Today I am so excited to hear that Tricia has officially been listed for a second double lung transplant. I have never actually met Tricia. I know her only through facebook and blogging, yet I am continually inspired by both her and her husband.
Even though I've followed her husband's blog, Confessions of a CF Husband, for some time now, I only recently read their whole story. After surviving a lung transplant and cancer, they have the continued challenges of raising their adorable daughter who was born as a micro-preemie. On top of that, they also choose to be foster parents to some incredibly lucky kids. Now, after having been diagnosed with chronic rejection… they wait for her third pair of lungs to come.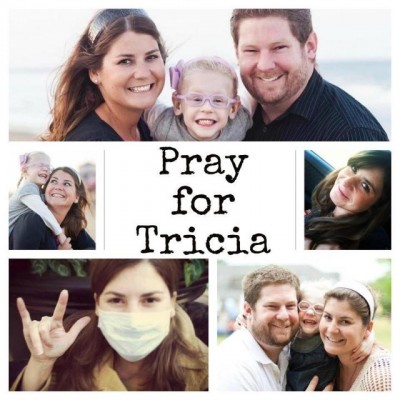 What strikes me most about them is how strong their faith is and how positive their attitudes are despite all that they have been through. It kinda makes you (and me) want to just get over yourself when you feel like complaining about your day. In her husband's post today, after listing all the obstacles they are facing with the upcoming transplant, he says:
We continue to trust God completely… He is the only One Who knows exactly what will happen with Tricia… God is in control and will continue to do what is best for Tricia.
I can't imagine being under the kind of stress they must be under right now. I'm more of a one-challenge-at-a-time kind of person. My facebook stream has been filled with CF friends sharing her photos and updates, so many people are cheering for her to pull through this difficult time. Pray for Tricia, that her new lungs come soon and that she will be healthy enough for a successful surgery when they do come!