Enjoy Life Foods has done it again! They've made another great product… that I will be hooked on. I just love how great their snacks taste and I love that they are all made safe for people with food allergies. I was so excited when Enjoy Life Foods sent me a package of both varieties of their no nuts, seed and fruit mixes to try.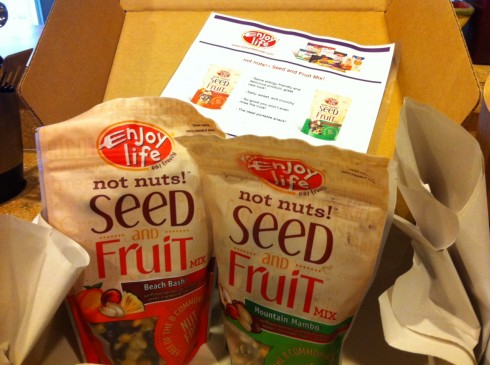 These mixes make a great snack whether you're on the go or just need something to munch on after dinner while watching television. I'm actually not even allergic to nuts, but I will still buy these again for sure since it's hard to find a mixture that doesn't have something I'm allergic to in it. These have a great mixture of salty and sweet, crunchy and chewy yummy-ness.
Each variety had a great mix of flavors, but I have to say that the Mountain Mambo was my favorite. It has a mix of sunflower kernels, pumpkin seeds, raisins, apples, chocolate chips, and cranberries. I could seriously eat the whole bag in one sitting if I let myself.
The second flavor is called Beach Bash and was also very tasty. I was surprised at how different it tastes despite having mostly the same ingredients. This one was a mix of sunflower kernels, pineapple, pumpkin seeds, cranberries, and apricots. This one lasted long enough to try out another one of the recipes on Enjoy Life Foods' recipe page… Beach Bash Brittle.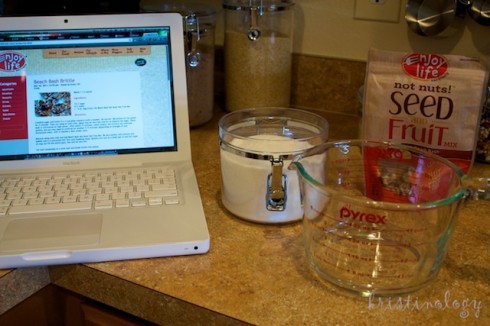 I started by mixing sugar a water together and heating it in the microwave to dissolve the sugar. I made only half of a recipe since I only had half of the trail mix leftover.
I continued heating the sugar until it was a dark amber color, like the recipe directed. Then I mixed in the trail mix.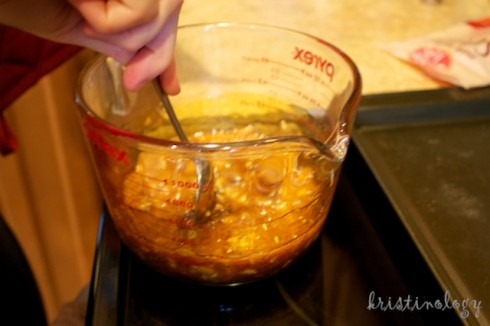 Working quickly, I poured the mixture onto a cookie sheet as soon as it had stopped bubbling.
After allowing it to cool completely, I then broke it into bite size pieces and transfered to a serving dish.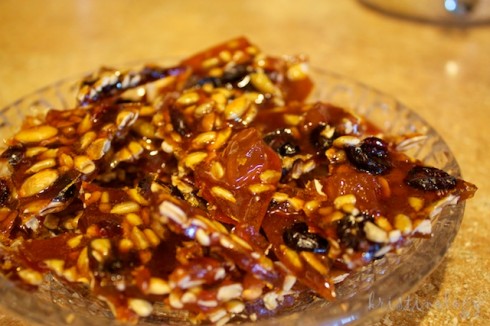 This came out great! Being that this was my first time making a candy-like treat, I was a little nervous that I might end up with my spoon hardening onto my measuring cup or something like that. But this was super easy to make, and such simple ingredients too. What a yummy, sweet snack!
Thanks to Enjoy Life Foods for yet another great, allergy-free snack that I can enjoy!