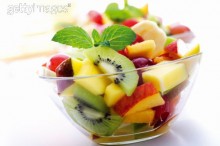 The diet is actually going great!  I'm not sure if I feel much of a difference or not.  I think I'm concentrating too much.  But I am surprised about how full I can feel with such limited food options.  I have learned that it's not all that hard to make fresher food.  I especially love all the fresh fruit we have been eating.  We had to stop by the store tonight to pick up some more fruit.
For breakfast, we have been having bacon and lots of fruit.  I'm pretty sure this is Jesse's favorite part of my diet.  I mean… how bad can a diet be that includes bacon?!  Lunch is the hardest part.  I had salad Monday and Tuesday.  I'm not really a salad person.  You have to eat a lot of salad to feel full.  I think I'm done with salad for a while now.  Wow, that's a lot of salad for one paragraph… salad, salad.  🙂  Then dinner is pretty normal to what we usually have.  We just have to make sure we don't use any sauces in cooking the meats.  There are pretty much no sauces that are allowed.  It's amazing what you find in your foods when you start reading ingredients!
Lunch today was amazing.  My mom called me yesterday to say that she had made soup, and that there was extra if I wanted to pick it up on my way home from work.  The soup was sooo yummy… and very filling too.  I think I will make this even when I don't have to eat like this anymore.  Thanks, Mom!
Here's the recipe (from the South Beach Diet book):
1 tbsp extra-virgin olive oil
1 small onion, chopped
1 celery stalk, finely chopped
2 garlic cloves, smashed and peeled
1/2 tsp dried basil
1/2 tsp dried rosemary
1/4 tsp dried thyme
1/4 tsp salt
1 (15 oz) can cannellini or great Northern beans, drained and rinsed
1 1/2 cups lower-sodium vegetable broth (or chicken broth)
freshly ground black pepper
In a large saucepan, heat oil over medium heat.  Add onion, celery, garlic, basil, rosemary, thyme, and salt; reduce heat and cook, stirring occasionally, 15 minutes, or until vegetables are softened.
Add beans and stir to combine.  Transfer about 3/4 of bean mixture to blender.  Add broth and puree until smooth.  Return mixture to saucepan, stir to combine, and bring to a simmer to heat through.  Season with additional salt and pepper to taste.  Serve warm… about 4 servings.
I added some leftover chicken to make it more of a meal.  Mom said she sometimes likes to add rice to it too.  She also pureed all of the soup instead of the 3/4 like the recipe, and since I'm not allowed to have canned food right now Mom used dry northern beans.
All of this fresh cooking is really making me wish that I had more time to make everything fresh.  This week I have purposely had to set aside time to prepare for each meal.  I'm looking forward to someday when I can concentrate more time on stuff like that.  Maybe when we move to a farm! 😉