I love having breakfast for dinner, don't you? Last night I finally tried a new recipe for pancakes that I had been wanting to make for a while now. I used my favorite brand of baking mixes, Namaste. I can't even remember the last time I had pancakes. Back when I was a kid I used to be able to eat as many pancakes as Dad could make. Dad's pancakes are THE best… super light and fluffy. And although these weren't as good as Dad's, they were still pretty darn good!
As always, Namaste mixes are super easy to make. I added only two eggs, some oil, and some water. I also added some of the blueberries that I picked myself for extra fun. The only down side was that they weren't as thick as regular pancakes, I guess because of the lack of "normal" flour. They gave new meaning to the phrase flat as a pancake. So the blueberries didn't really have enough room to sink into the pancake like they were supposed to, but they still tasted the same.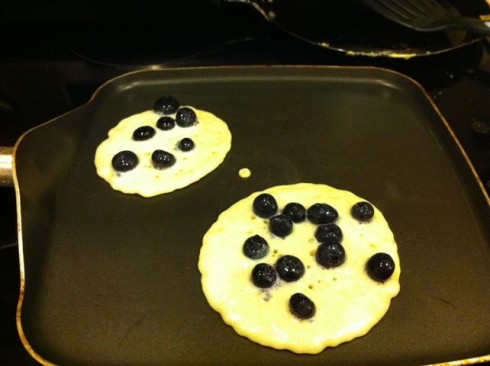 I added oh-so-yummy pure maple syrup on top. I've been spoiled my whole life with only ever buying pure maple syrup. It may be a lot more expensive, but it is definitely worth the price. And now I have an excuse to only ever buy the real stuff because I can't have the ingredients in the fake stuff.
And… guess who else had the pleasure of enjoying breakfast for dinner? Jesse isn't a huge fan of pancakes and would usually need more protein and calories in a meal, but since he wasn't feeling too well last night it worked out okay. Plus I'm pretty sure this is only the second time since we've been married that we've had breakfast for dinner. That's just sad! Especially since there is nothing to not love about pancakes.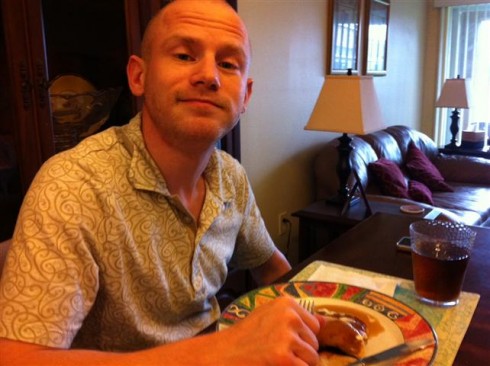 Are you craving some pancakes yet? Maybe you should put them on the menu for tonight!