I made these tacos for dinner the other night.  The recipe was very tasty and easily adapted to into a non-allergy version.  Here is the Taste of Home recipe before my changes:
10 servings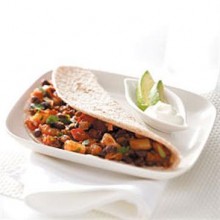 Prep/Total time: 30 minutes
Ingredients:
1 can (15 ounces) black beans, rinsed and drained
1 large onion, chopped
1 medium sweet red pepper, chopped
1 tablespoon olive oil
1 can (20 ounces) unsweetened pineapple tidbits, drained
1 jar (16 ounces) salsa
1 can (4 ounces) chopped green chilies
1/4 cup minced fresh cilantro
10 whole wheat tortillas (8 inches), warmed
Sliced avocado, shredded lettuce, chopped tomatoes, shredded reduced-fat cheddar cheese and reduced-fat sour cream, optional
Directions:
Mash half of the beans; set aside. In a large skillet, saute onion and red pepper in oil until tender. Add the pineapple, salsa, chilies, mashed beans and remaining beans;
heat through. Stir in cilantro. Place 1/2 cup filling on one side of each tortilla. Add toppings of your choice; fold in half. Serve immediately.
My changes:
I used half red pepper and half green pepper and skipped the green chilies. I substituted plain tomatoes for the salsa. I also added about half a pound of ground beef to make the filling a little thicker. I added just a tad of salt, pepper, and chili powder to taste. And instead of tortillas, we wrapped the filling inside large romaine lettuce leaves. We topped them with a little shredded cheese and gobbled them up.
This made lots of good food for how cheap and easy it was to make. We will be enjoying the leftovers for lunch today, and I will definitely be making these again!