Baked hamburgers is a recipe that has been in Jesse's family for years. My recipe card notes that it was originally from his great-grandma. So, I pretty much had to learn this recipe to marry into the family. I've come to love having baked hamburgers as much as Jesse does.
When I was first diagnosed with food allergies we went quite a while without making these since there are several ingredients in them that I can't have. I finally decided that I needed to rework the recipe to make them allergy-safe for me. I've made them several times in recent months as we make up for the time we lost not having them. It's one of those comfort food recipes that you just don't get tired of having.
I start by finely chopping half an onion and mixing it with one pound of ground beef. Then I form the beef into patties about the size that would fit in the palm of my hand. I find that one pound makes approximately 10-12 patties, which is the perfect amount for Jesse and me to have dinner with leftovers for the next night.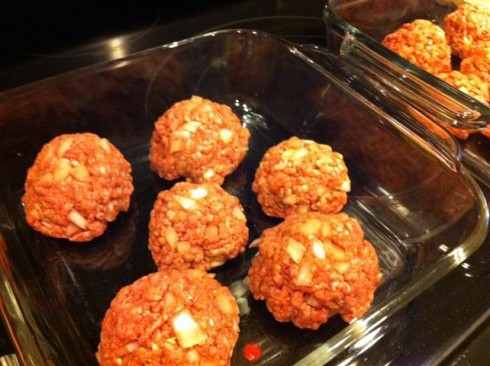 Then I make the sauce by combining 1/2 cup of sugar, 2 tbsp. water, 1 cup ketchup, and 2 tbsp. mustard. Heat the sauce in the microwave for about 30 seconds to thicken a little, stir, and heat another 30 seconds. I like to taste the sauce to make sure it has the right flavor and adjust if necessary. I often add a tad more mustard, just to make sure there is enough tangy-ness to balance out all the sugar… I don't like the sauce too sweet.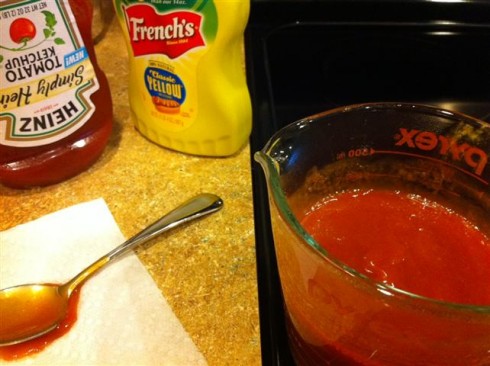 Finally, pour the sauce evenly over the patties and they are ready for the oven. Bake at 350 for about 1 hour. Extra tip: I will often split this into two dishes of five or six patties each. I bake one for that night's dinner and stick one in the fridge to bake in the next day or so. That way it's as easy as having leftovers, only they are freshly baked!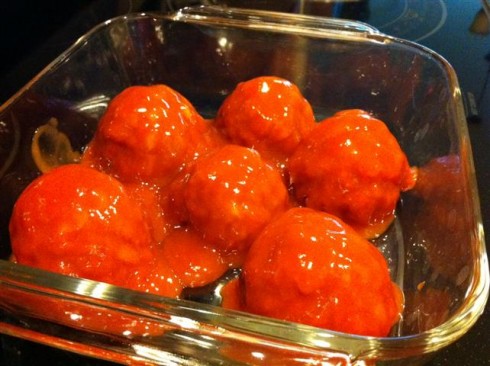 I've had these pictures saved for a while because I wanted to get a picture of the final product before posting the recipe. However, every time I make them they smell so good and we are so anxious to eat them that I keep forgetting to get a final picture. So, you'll just have to see for yourself what they look like cooked.
Also, here is the original, non-allergy version of the recipe if you're interested:
1 lb. ground beef
1/2 cup milk
1/2 cup bread crumbs
1 egg
Sauce:
1/2 cup sugar
1 cup ketchup
2 tbsp. mustard
2 tbsp. vinegar
Give these a try. The recipe also easily scales up to make for a larger group. Enjoy!