We are so excited that we were asked to do respite care for foster parent friends of ours. We will be watching their six month old baby girl for one week while they are on vacation. This morning they dropped off their foster daughter for us to watch.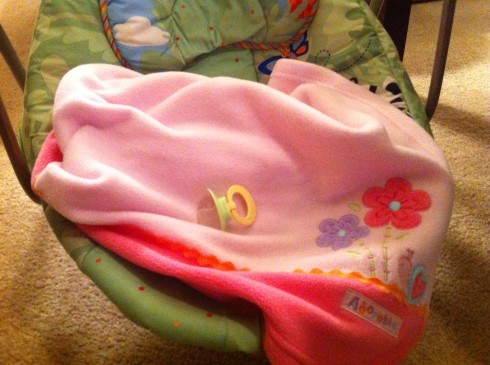 We love that having her here will be a completely different experience from when A lived here. She'll give us a chance to use some of the baby items we were given and some of the girly items we have. Letting A go has been extremely hard on us. We just had no idea we would feel so strongly for him. Honestly, it was a little hard to think about someone else sleeping in "his" room… but then again, there's no reason to let a perfectly good room stay empty when there is someone who needs it. Such mixed feelings of excitement and sadness, we love A so, SO much!
Baby girl has been great so far! She is full of smiles and lots of fun. It sure is amazing how much stuff is required to take care of such a tiny person. Also, I'm a little bit surprised about how busy today was. For those of you who are parents I'm sure you'll just laugh at this but, it seemed like it would take a lot less energy to care for her since she can't run around like A did. Between keeping her on schedule with her feedings and keeping her entertained and happy… I'm still pretty tired out!
I think we did very well for our first ever day with a baby-baby. I guess the real question is how our first night will go…