Do you need a fancy-looking meal to impress some dinner guests? This tasty meal from Simple & Delicious was so easy to make for how nicely it turned out. It also made great leftovers since the stuffing kept the meat nice and moist. And since it's all fresh ingredients it needs no allergy changes, except for the cornstarch.
Start by chopping an apple and some onion.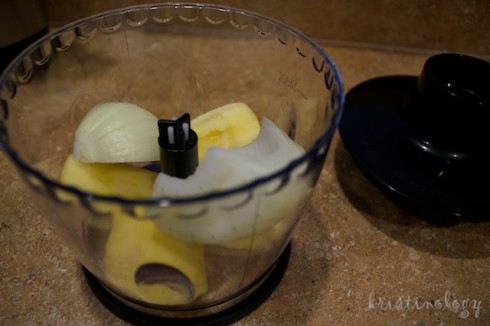 By the way this was one of my Christmas presents. It's an immersion blender that can also attach to become a food processor. Sure makes chopping quicker!
Anyway, next saute apple and onion in oil until tender. Add the garlic, salt, and pepper; cook another minute or so and remove from heat.
Make a lengthwise slit down the center of the tenderloin and spread apple mixture over the meat. Close tenderloins, tie with string, and secure the ends with toothpicks. I didn't have string so I just used several toothpicks, which worked just fine. Bake, uncovered, at 425 for 15 minutes.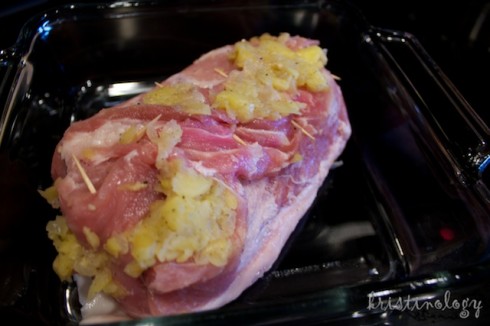 Meanwhile, combine the juices and mustard in a saucepan and bring to a boil. Combine cornstarch (or arrowroot) and water until smooth and gradually stir into juice mixture. Bring to a boil, cook and stir until thickened. Stir in parsley.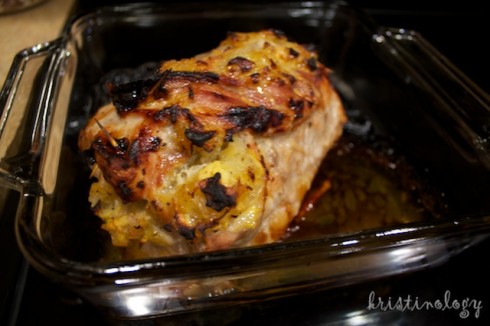 Pour 3/4 cup of sauce over tenderloin and continue to bake until meat reaches 160. Let stand before slicing. Serve with remaining sauce.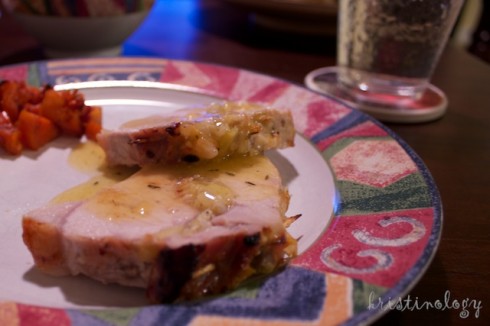 Recipe:
1 medium apple, peeled and chopped
1 small onion, chopped
1 tbsp. olive oil
1 garlic clove, minced
1/2 tsp. salt
1/2 tsp. pepper
2 pork tenderloins (I made one)
Sauce:
1 cup unsweetened apple juice
1 cup pomegranate juice
1 tbsp. dijon mustard
2 tbsp. cornstarch
2 tbsp. cold water
1 tbsp. minced parsley
Enjoy!