As soon as we had decided to plan another trip to Grandpa and Grandma's farm in Ohio, my first question to Grandma was whether we would be too late for apple season… since they weren't quite ready when we left here several weeks ago. She said we would probably be too late, but it turns out there were just a few left. Grandma said she had been watching them, hoping they would stay on the tree just a little longer for me.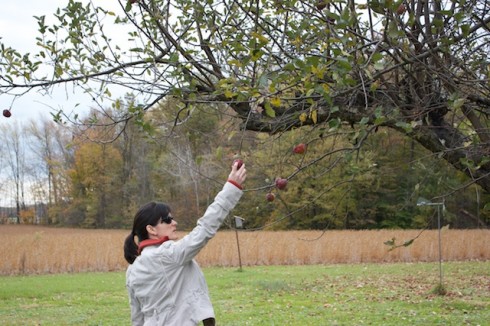 Thankfully, I had my first opportunity to pick apples today! We used a nifty tool to get down the ones all the way at the top of the tree. It was a little tricky until I got the hang of it. And I definitely had an apple fall from the tree right onto my forehead. It was so worth it to brave the cold to experience some Fall activities.
We also enjoyed walking around a little and seeing what the farm looks like in the Fall. Even though we were here so recently, the farm sure looks different with the change in the weather. It's pretty so see the seasonal changes. I spent quite a bit of time today just looking out the window.
Later on we cooked up some of the apples we had picked. Mildred made an apple pie and I made some cinnamon apples for myself. I'm pretty excited that I am the ONLY person to have touched the apples before I ate them. I picked them, peeled them, cut them, baked them.. and ate them! Talk about minimal processing… love it!!
They sure were yummy! Yay for participating in another farm activity!