Apple crisp has always been one of my favorite desserts! I'm so glad that I can still enjoy this treat despite my food allergies. This recipe is quick and easy, it's the perfect thing to make for a last minute dessert or for surprise guests.
Start by peeling and slicing about 6 apples. It's best to use granny smith apples, but any type will work. I often will use a variety for a mix of flavors.
Topping mixture:
3/4 cup brown sugar
1/2 cup oats
3/4 tsp cinnamon – I use closer to a tbsp… yum!
3/4 tsp nutmeg
1/3 cup butter, softened
1/3 cup flour or 1/6 cup arrowroot (optional)
(The original recipe uses flour which I eliminate because of my wheat allergy. It does make the topping a little crispier, but mine turns out just fine without it. Sometimes I'll substitute arrowroot, but often I'll just make it without that too.)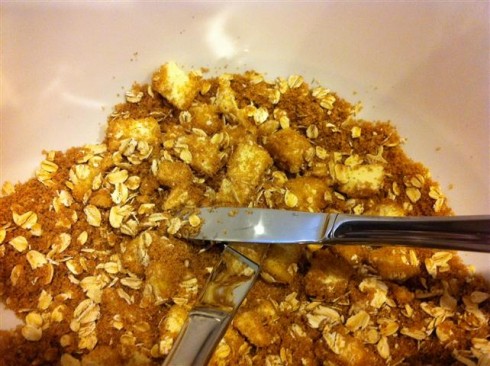 Blend everything except the butter together. Cut in butter until the butter is in pea sized pieces. Spread topping over apple slices.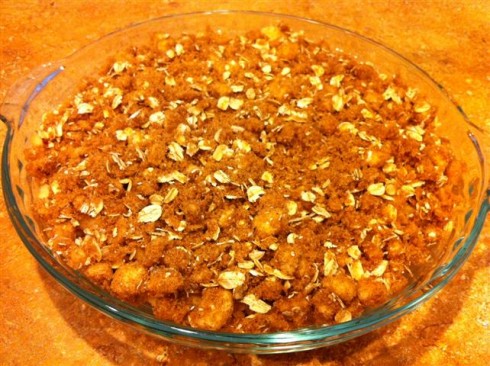 Extra tip: Divide topping into thirds and store in the fridge for separate, super quick use. When it's just me and Jesse, I'll often use a much smaller dish and use only two apples with a third of the topping. This time was also just me and Jesse, but I had lots of apples to use so I made a whole one… we had no problem finishing it anyways.
Bake at 375 until topping is golden brown and apples are tender, about 30 minutes. Makes about 6 servings.
Enjoy!