Five years ago today we got married! What an amazing day that was, what an amazing day today was. I think this is the best way we could have chosen to celebrate our first five years of marriage. I'm so lucky to be married to Jesse. We had an great time exploring Niagara Falls today.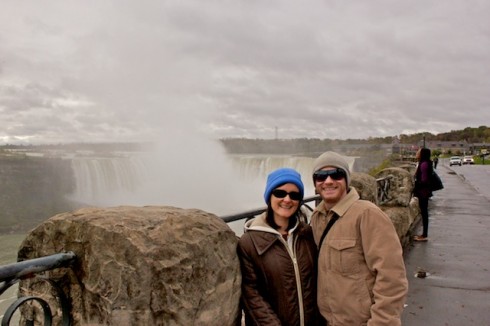 It's such a mesmerizing view. I could stand there for hours watching the water rush over the edge. It's just so pretty… and so loud. From where I'm sitting now in our hotel room, I can still hear it roaring. It sounds even louder once the night gets silent, it's fantastic to fall asleep to.
We walked clear past the horseshoe falls to some nice greenhouse gardens. We saw lots of pretty plants and flowers and got a nice break from the freezing cold.
After lunch the sun finally decided to peak out of the clouds a little. The falls looked even prettier highlighted by the sun.
We made our way to some more gardens at the other end of the falls. We loved how perfectly all the hedges are kept. We sat for a while enjoying the view of both falls before walking back to our room.
We were both completely exhausted by the middle of the afternoon from all the walking. I feel like we are really making the most of the time we have here. I think we've fit in everything we had in mind that we wanted to do. What a great anniversary day!
Happy anniversary Jesse! Thanks for taking us to Niagara Falls and spending such a fun weekend with me. I love you!!