This past month we've had the joy of having four different kids stay in our home! While we take our break from being full-time foster parents, we've decided to do respite care to be a support to other foster parents. In our county, foster parents are allowed twelve respite days per year and the days can be used all together or one day at a time. For the first respite the foster family just needed a little break and wanted a weekend off from the kids. The other respite the foster family was taking a vacation and not able to take kids along.
First we had two girls, sisters, come for the weekend. We had four year old "M" and three year old "N." They were fairly well-behaved except for when it was time for bed. They both were crying and screaming at the top of their lungs when they were put to bed. I don't know much about their background so I'm not sure why it was so hard to calm them. They also tore apart some decorations and other things in their room when we thought they were sleeping. That part was not so fun.
Play time during the day was fun though. When they went to bed that first night I dug out the tea set and found some dolls too. We hadn't had use for girly toys yet! They loved playing with that tea set. They poured us tea over and over for hours. Then Jesse's parents and grandma came over on Saturday and they poured everyone tea all over again. They girls had a special, instant connection with Grandma. When she left for lunch with the plan to come back later, they kept saying "where's Grandma?" and "I miss her!" They cheered for Grandma when she came back to play again later.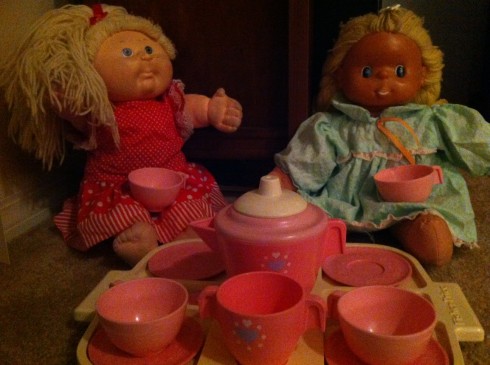 Nana (my mom) came over to meet and play with them on Sunday afternoon. They girls took turns taking her books to read to them. The funny part was that Mom had just happened to have leftover cake and asked if she could bring it for them. For whatever reason the girls had been asking me for cake all weekend and could not believe we didn't have cake. The first time I said I didn't have cake you would have thought I had told them the worst news ever, no cake! Needless to say they were very happy to get their cake!
Then more recently we had two more siblings come for a longer weekend, five days. We had five year old boy "R" and three year old girl also "R." They were so, so much fun. I really connected with them better than I had with the last few kids we had visit. I was sad to see them leave. They definitely had a classic brother/sister relationship. They spent just as much time fighting with each other as they did looking out for each other. They had so much energy and mostly played together great!
Although they were in daycare for the week days as per their normal routine, we did get to have plenty of time with them over the weekend. On Saturday we took them to Nana's house for some play time with fresh-to-them toys. They cooked in the play kitchen and enjoyed playing outside with chalk, bubbles, and the scooter. Then we all ordered pizza.
One of girl R's funniest moments was when her brother had a minor hurt to his ankle and wanted ice, she came up with a fake injury so that she could have ice too. After Nana gave her some ice she even limped around and really played into it. I just had to get a picture with their simultaneous "terrible" injuries. Boy R's funniest line came after he noticed I wasn't eating pizza because of my food allergies. I told him I was allergic so I was having leftover chicken instead. After that he took every opportunity possible to remind me that he was allergic to vegetables. How convenient!
On Sunday we took it easier and stayed closer to home. Jesse and I took them on a walk through the neighborhood and to a lake just down the street. They each brought a bucket and found fabulous treasures like mulch, leaves, pine cones, and trash… they got excited finding trash. Later Jesse had the fabulous idea to break out the craft beads. We made bracelets with their names on it, a little something they could take home with them and maybe remember us by.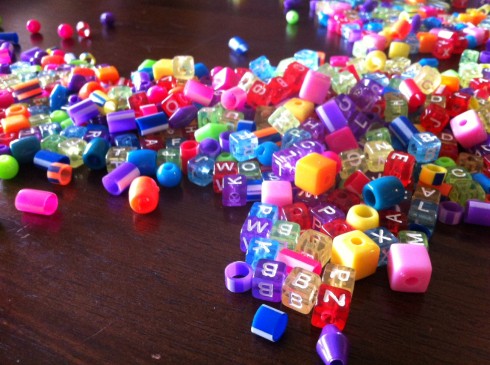 We continue to enjoy the time we get with of the children who visit. We learn new, different things with each experience. We can't wait to see who number 10 will be?!