What an awesome weekend we had with A and his parents! We continue to be amazed at their openness and willingness to allow us to share a part of A's life. Keep in mind that once a child has been reunified, there is no obligation on the part of the parents to keep in touch with foster parents. However, A's parents have made it clear that they think it would only hurt A to be cut off from all the people he knew as his family for the last six months. I believe they really are doing everything they think is best for him. We agree with them that there is no reason to limit the number of people in his life who love him.
Saturday morning I can't even explain how excited I was to get to their house. We were up early to make sure we had plenty of time to do everything we needed to get done before we needed to leave. Even though we had no doubts about A being taken care of, it sure put my heart and mind at ease to walk into their house and see him being his smiley and goofy self. All week it had been impossible not to think and worry about him constantly. After all, we had had to change nearly every aspect of our lives to fit around his needs. There were even times that I almost forgot he wasn't still here, like I needed to tell Jesse to turn the television down a little so as to not wake him up. So just getting to give him hugs made this foster mama super happy!
A brought us straight into his room start playing, which of course we were more than happy to do. I think he's still beyond thrilled that he gets to have a big boy bed at mommy and daddy's house. We never changed him from sleeping in the crib because we were worried about him wandering to the stairs in the night, and he never tried to escape the crib so we figured there was no reason to change things. They tell us he likes being able to wake up and start playing in his room.
After a while we all headed over to Home Depot to work on their kid's project of the month. This month we made a turkey napkin holder, which wasn't quite as cool as last month's fire truck project, but I think A still had lots of fun making it. He definitely enjoyed painting part most. After that we headed back to their house to get the lasagna in the oven while we played some more. We enjoyed our meal together and then headed home in time for A to take his nap.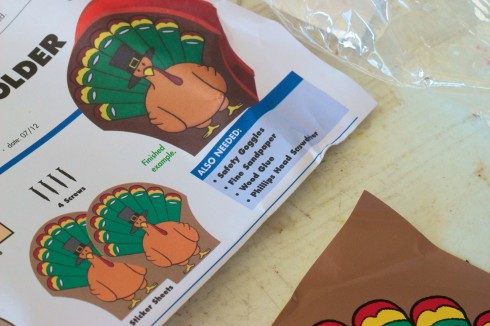 Sunday morning we were back at their house again to pick up A for church. A's mommy and daddy visited church with us a couple of weeks ago and said that they could tell that he really enjoyed going so they wanted him to continue being able to go with us. We told them they were always welcome to join too, but this week I think they were definitely ready for some time off from A. We sure know how that feels… we were always telling our family they had an open invitation to come play with A so that we could get a chance to rest some. I'm glad that we could help fill that role for them now that he's back home.
A was pretty cute when he first saw they rest of the family. We usually would see them pretty often so it probably felt like he hadn't seen them in forever. He acted a little shy at first when he went to say hi to Dewey. When Nana and Papa came it a little later, he went right to them but then looked at them like he was so confused. After just a second he clicked in and was so excited and gave everyone big hugs.
After church we brought him back to our place for some lunch and a little play time. I think it was good for him to come back to his old home and know that we were still here, but that he belongs with mommy and daddy now. It was so funny how he noticed a couple of little things that had changed since he moved out. For example, on our patio we had our patio chairs pushed off to the side when he was here so he would have more room to play. When I was cleaning up out there this week I put the chairs back to how they used to be. As soon as he saw them he said, "Why have new chairs out there?" So cute how good his memory is on little things like that.
The whole family came over to our house for lunch, so A had fun getting to play with everyone. But then he started to act a little frustrated and confused about what was going on. I think he was just ready to go back home. With all the attention he was getting, it was like he knew goodbyes would be coming again. Plus it was getting close to nap time which wasn't helping his mood. But it was still a great day for all of us.
I feel like I can breathe again knowing that he is doing fine and we can keep visiting him to make sure he still knows we love him. I said all week that I'd feel better once A was back to our house to visit and drive tractors, which was almost always a constant request of his. Jesse had gathered a few tractors when we picked up A so that we could do just that. A filled them up with little pieces of trash and we all drove them… that's all I wanted. As hard as this has been on us, I can't imagine what it's been like for A who has had way more changes this week than we have. He's only three and can't express any of his feelings and emotions. I wish he didn't have to go through any of this mess, but if it hadn't have happened we never would have met him or his parents. Even when we can't understand God's plan, I know that everything happens for a reason.
One highlight of my week: when A's mom let me know that they had framed one of the family pictures we had given them and put it in his room so he could see us whenever he wanted. We had made a picture memory book for him with lots of pictures for him to look back later at the time he spent here. They chose the last picture I had in there which was of the whole family with A right in the center. I couldn't help but notice it on display when we were there. How sweet is that!?! I know A often asked to see pictures of them when he lived with us, so it totally made my week to know that they were doing the same.