Are you watching the Extreme Couponing show?  I think it is just amazing how much these people are able to save.  While I still don't find it necessary to stock up 1,000 tubes of toothpaste, like the guy on the show, I am learning some extra tips and tricks to save more money on groceries.
I've been paying closer attention to how I can match up coupons with store sales.  I've been buying some non-perishable items just because they are on sale instead of when I need them.  Then I plan my meals for the week around what I already bought on sale.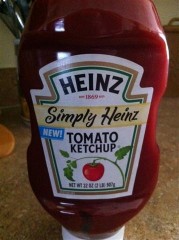 My best deal so far was on Heinz ketchup.  I buy the Simply Heinz because it's made with real sugar instead of corn syrup, but it only comes in the small size at the same price as the large size of regular ketchup.  Last week Publix happened to have it on sale for $1.99 and I had printed an internet coupon for $2.00 off any Heinz ketchup.  So… I actually made a penny by taking home free ketchup! Since we had just watched the show the night before, I had to call Jesse on the way home to let him know about my fabulous find. I did still spend over 50 bucks on the rest of the groceries, but it was less than it could have been.
My other recent deal was on spaghetti.  Pasta goes on sale all the time for buy-one-get-one-free, which is the only time I buy it. But I happened to have a coupon for $1.00 off any two Muellers pasta at the time it went on sale.  So by using the coupon while it was on sale, I was able to get two packages of spaghetti noodles for only 9 cents each!
Now I need to work on how to save more money on the gluten free and other specialty items that I buy.  Coupons for those types of items aren't as easy to find, but they do still have good sales if you watch closely.