We had such a great time at the Morrow County Fair yesterday!  We got a bit of a late start since Jesse and I were so tired and catching up on some sleep, but we made it just before lunch time.  It's a good thing I packed some warmer clothes, it was pretty cold and very windy.
The fair was only a short drive away from the house. I just love driving past so much empty space. So many small country roads with only a few houses and field after field. It's so beautiful and so quiet.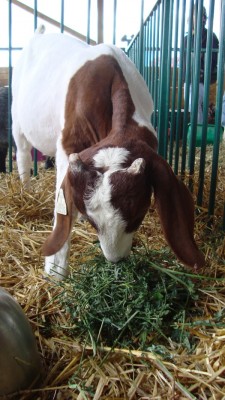 Grandma said the animals would be the first stop if I wanted to see them.  I didn't realize how fun seeing all the animals would be.  I had decided I would look and not touch, but that didn't last past the first row of goats.  The only place I've seen these animals is at the zoo, but these were real farm animals.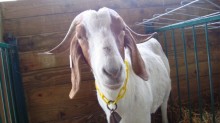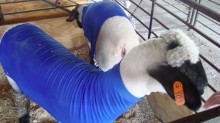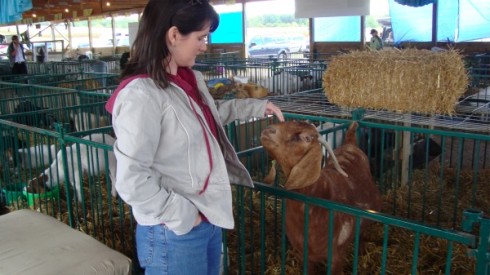 I was like an excited little kid every time Grandma would say would the next animal would be. "Do you want to see the pigs?"…."Yeah!!" These pigs were huge!
Next we headed over to the cow barn. It was about this time that I realized I was the only one with my camera taking pictures of the animals. The locals must have been laughing at me, but when is the next time I'll be in a cow barn?
We also got to see a couple of llamas. He wasn't interested in smelling my hand, but he liked Grandma better.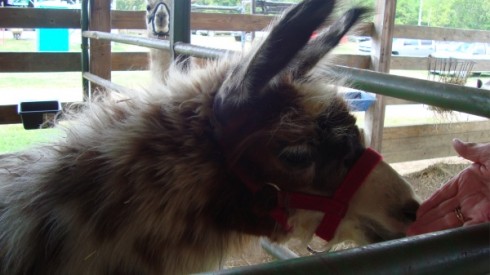 Then we headed over to see chickens, ducks, and rabbits. There were so many lined up in rows and rows of cages. We had fun taking pictures of all the different types.
After seeing all those animals it was time for lunch. We walked out to move the car to the other side of the fair. The car was parked along a huge corn field and I couldn't resist taking pictures of me hiding in the corn. I was hoping we wouldn't be coming too late in the year to see corn as tall as me.
Since Grandpa and Grandma have lived here their whole lives they know everybody. We didn't get very far before there was yet another friend to stop and visit with.
And then it was time for food. There were so many choices. I ended up with a pulled pork sandwich and Jesse got a huge mound of french fries and pulled pork covered with cheese and barbecue sauce. Both were very tasty.
After lunch we walked through several buildings with booths selling different items. I most enjoyed the crafty, hand-made things. We also got to see all the items that won prizes such as quilts, canned goods, photography, pies, and produce.
And then there were the horses. They were so pretty… and huge!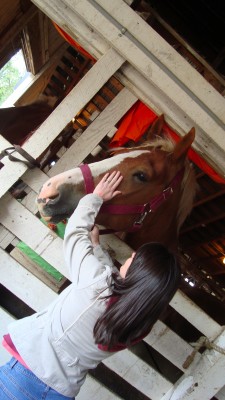 Last, but not least, we walked through the barn full of antique tractors. I think this was Grandpa's favorite part. He studied the tractors and pointed out to us what had been changed from the original. I think the oldest was from 1939. They were neat to see.
After a day of walking with the wind blowing through my hair, I completely passed out when we got back to the car. We had a fun and full day.