It's been nearly three weeks since A moved back home. Although everyday continues to get easier, we still keep finding little reminders left over from his living with us. Jesse and I were just talking last night about how the first week after he left it felt like we were giving his parents our kid, rather than us giving them back their own kid. Every time we get to visit him it sinks in a little bit more that he is back where he belongs. We continue to be thankful for the ongoing relationships as we learn to take on an entirely new role in his life.
My favorite evidence left behind by A is his chalk drawings all along the way to the trash can in the garage. I remember the day he did those drawing because I kept asking him to keep the chalk in the driveway instead of the garage, because I kept thinking he might turn around and start drawing on the car instead. He would return to the driveway, but then find the need to run in to add one more line really quickly. Now I'm kinda glad he didn't listen. Even though the driveway pictures have long since been washed away, the extra drawings inside remain. I smile every time I take out the trash and see his drawings and remember how he always wanted to help hold at least one piece of trash, like a milk jug or a cereal box, to throw away.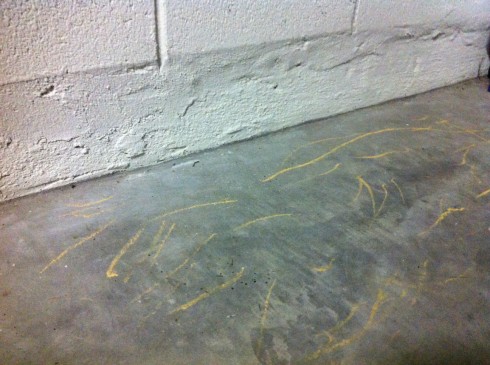 Jesse's favorite evidence is the pile of treasures he and A had been collecting on their many walks. We've got acorns, leaves, sticks, and random "special" trash items that remain in the garage, where he left them. We've been told that A and his dad now go on morning walks and have since accumulated a similar pile at their house. As much as things have changed for A, I think it's so awesome that his parents have worked to find little things about his schedule or his activities that they can keep the same for him.
Today I finally washed his many fingerprints off the living room sliding glass doors. I still have yet to re-polish the kitchen appliances which are covered in even more fingerprints. One thing at a time.