Enjoy Life Foods is still one of my most favorite brands. Their products are so good, you would never know you were eating something completely gluten and allergen free. I also love that they keep coming out with new items to try. I once thought my days of enjoying delicious treats was over… now it's hard to decide between all the yummy choices that Enjoy Life Foods offers.
I was overjoyed when Enjoy Life Foods contacted me again to try out some more of their brand new products… crunchy cookies! I had seen them talking about their new cookies on their Facebook page and seen them on their website, but they hadn't shown up in my local nutrition store yet. They sent me all four of the fantastic new flavors: sugar crisp, vanilla honey graham, chocolate chip, and double chocolate!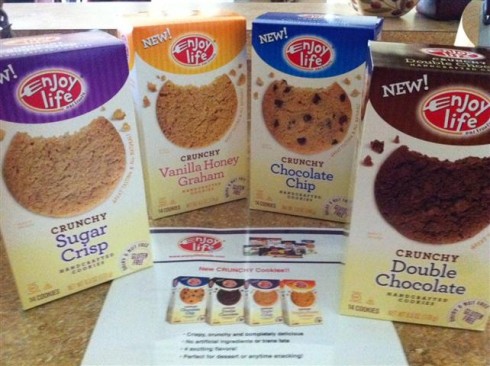 Before trying them for the first time, I examined the ingredients label carefully (as I always do now) and found a few ingredients and flavorings that I was unsure about because I hadn't tried them before. One flavoring I was initially concerned about was the vanilla since it's difficult to find it without added corn syrup. However, I found a very helpful ingredients page on the Enjoy Life Foods website that confirmed that their vanilla and other flavorings were corn free and safe for me.
As you can imagine, I had a rather difficult time picking which box to open first. I finally landed on the sugar crisp first, mostly because many of the products I usually choose are chocolate-y and I wanted something different. I brought them to game night at my parents' house to test them out on my family. We all thought they were great! They have the perfect sugary-sweet taste without being too much.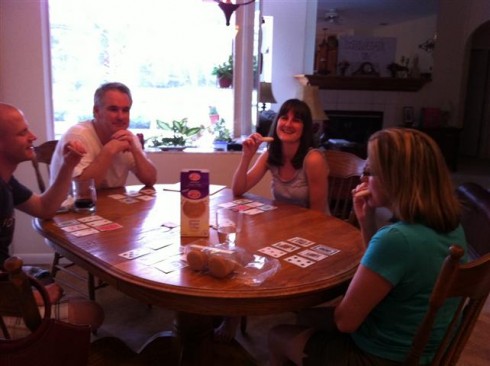 Next I tried the chocolate chip. Who doesn't love a chocolate chip cookie? These did not disappoint! I could have eaten the entire box if I wanted to.
Then I went for the vanilla honey graham. What can I say? Also great! They really reminded me of graham crackers. As kids we would use leftover frosting between two graham crackers to make frosting sandwiches. I decided I'd try the same thing here. It was so yummy, I couldn't resist making myself a second one. You have to try these this way.
Last, but certainly not least, I dove into the double chocolate. When the entire cookie is chocolate with more chocolate in inside, it's hard not to love it. I really expected these to be my favorite, but I have to say I'm not sure I can choose a favorite. They were all so good!
These cookies are so similar to cookies I would have eaten before food allergies. I really like the soft baked cookies that Enjoy Life Foods makes, but honestly these even more yummy. Just writing this post makes me think I should go give some of these cookies another taste. I will definitely buy these again in the future. Many thanks to Enjoy Life Foods for all of their fabulous products for people with food allergies… especially the great, new crunchy cookies!!