It's always fun for us to do grandparent activities. It's slower, but it's a lot of fun too. We enjoy doing some things we would never do on our own at home.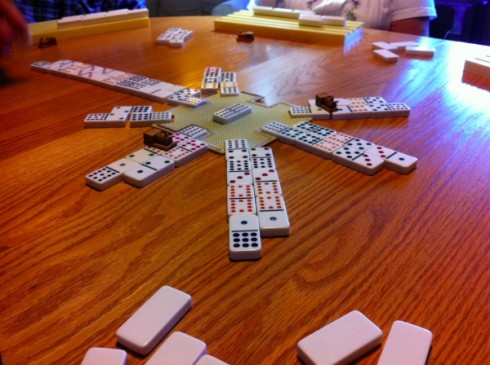 We got in a game of dominoes last night. Grandpa wasn't up to going out so the dominoes players came to us. Jesse and I played with Grandpa and Grandma, along with aunt Cheryl, great-uncle Don, and good friend Helen. She's one of our favorite of Grandpa and Grandma's friends.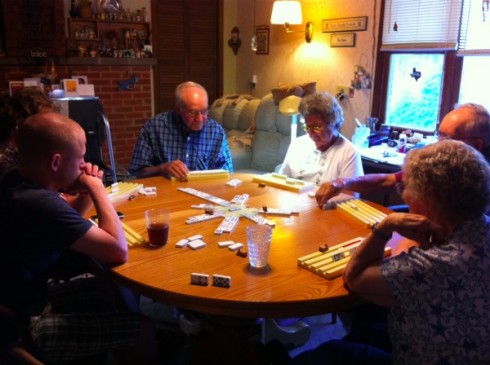 This afternoon we worked on planning out some of the meals we want to fix this week. Jesse and I made a quick run to the store for a few extra ingredients we needed. I was so excited about the produce prices! At home, the produce department uses up about half of my grocery budget for the week. We will definitely enjoy it while we can.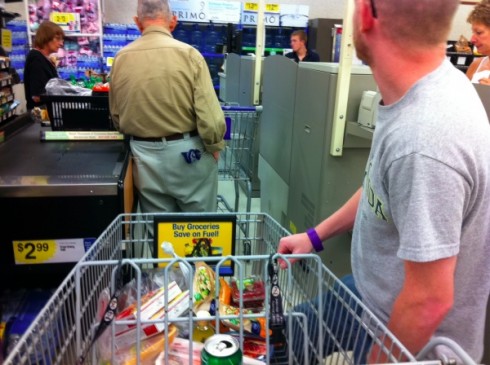 There's a stray cat that has been hanging around the farm. He came back tonight for some more food. Grandma got it to follow her down to the barn to eat.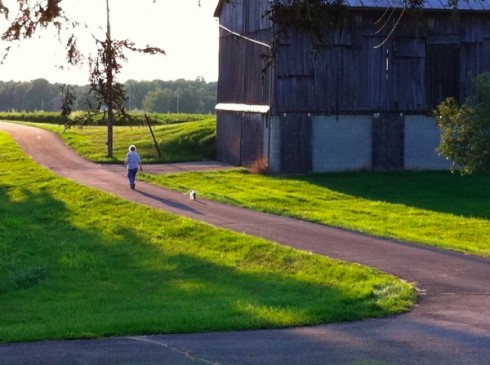 Jesse got some mowing done for Grandpa this evening. The grass sure was getting long. It looked like he was having fun riding the big mower.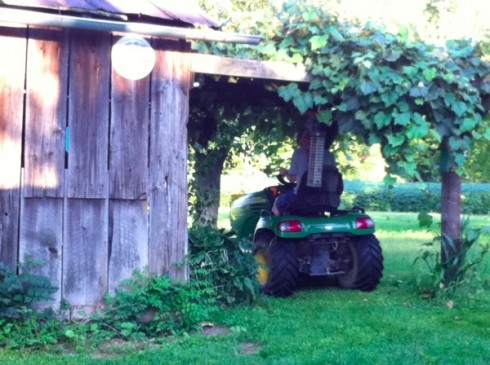 He wore a mask just to make sure he wasn't breathing in too much of what he was kicking up. Gotta keep those lungs healthy! We forgot to bring any, but they were able to grab a box before leaving the hospital since we knew we would need them.
Grandpa perked up and wanted to see Jesse's progress with the mowing. All of a sudden he just got up and went outside to watch. So Grandma and I followed.
It started to get a little cool out when the sun started to go down. We got our long sleeves on and got more comfortable while Jesse finished up.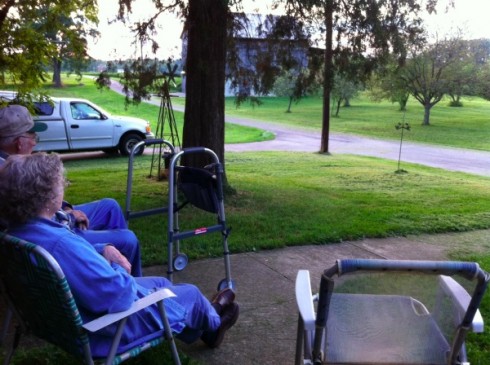 The clouds sure looked pretty as the sun set. We watched all the pretty colors change as it got darker.