Enjoy Life Foods is one of my favorite brands. All of their products are allergy friendly, free from top eight allergens… and other common allergens as well. They use only dedicated gluten-free and nut-free facilities and maintain strict standards to ensure that their products are safe for people with food allergies. The company was founded in 2001 with the goal of making "delicious products that just about everyone can EAT FREELY!" I believe they have done just that.
When Enjoy Life Foods contacted me and asked me to taste test a couple of their new products I jumped at the opportunity. I'm sure I would have enjoyed any of their products, but I was super excited that these were both new chocolate products. How could anyone turn down chocolate? Ever since my food allergy diagnosis (wheat, soy, and corn) Enjoy Life is the only chocolate I ever buy. I know it's safe and it doesn't taste any different from "normal" chocolate.
The two NEW products they sent me were Double Chocolate Crunch Granola and Semi-Sweet Chocolate Mega Chunks. Typing that makes me feel like I might need another chocolate snack!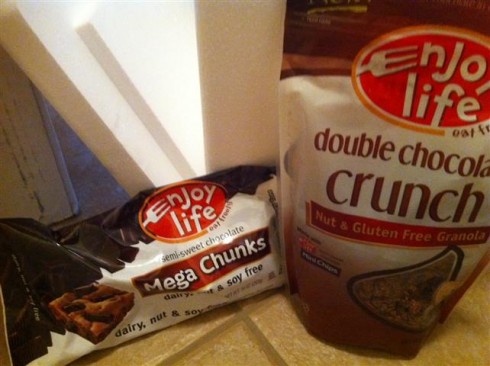 First I tried the granola. Honestly, I was a little worried that all that chocolate in a breakfast would be too sweet, but it really wasn't. It was definitely super chocolaty without being over-powering. They granola is crunchy enough that it didn't get all soggy as soon as I poured the milk on it. It was a filling and satisfying snack… just yummy!
Then I tried the chocolate chunks. I had a hard time deciding what to use them in first, so in the end I went with the the picture on the package as my inspiration, blondies. I mixed a handful of chocolate chunks into my gluten-free batter, added another handful on top, and into the oven they went.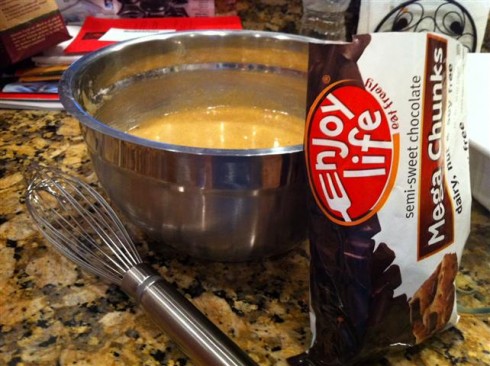 We tasted some of the chocolate chunks plain while we waited. My non-allergic family said they tasted great. My chocolate-loving mom tried a few extra just to make sure they were really good. These were mother approved!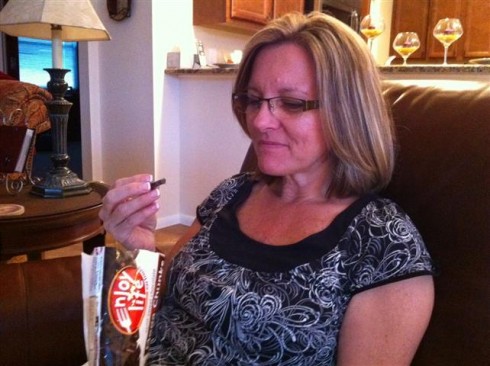 I have no complaints, the blondies were very yummy. I would love to use this chocolate again in future baking.
Thanks for the treats Enjoy Life Foods! And thanks for making so many great, safe products that I can enjoy! I can't wait to see what else you come up with in the future.