Yesterday we had the privilege of meeting the CF Riders! We had Brian, his wife Christie, and their super cute daughter Hayden over to our house to get to know them a little. They were vacationing in Florida and let us know they would be in our area if we had time to meet them. They are a great a couple, we look forward to spending more time with them in the future.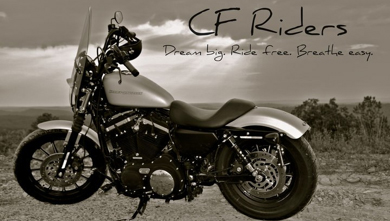 Jesse first met Brian online through a mutual CF friend. They hit it off right away, having so much in common. Meeting new CFers is amazing, there is never a shortage of things to talk about. It's so cool to talk with friends our age about managing hospital visits and refilling daily pill bottles. Obviously, these aren't topics that come up in our circle of "normal" friends. Brian was interested in hearing about Jesse's treatment routine and seeing his aerosol equipment. It was very interesting to hear some of the differences in their treatment plans and medications. Different doctors and different hospitals have varying opinions about the best plans for their CFers.
DREAM BIG, RIDE FREE, BREATHE EASY! That's the motto for the origination they have founded together. Their goal is to raise awareness and financial support for cystic fibrosis. They've been traveling across the country meeting lots of CFers and spreading their message to get their organization off the ground. Be sure to check out the CF Riders website to learn more about them.