We had an awesome day at the beach today.  The weather was so perfect!  The temperature was great, not too hot, and a consistant nice breeze.  We needed a day like this to just relax.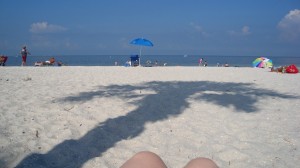 We had planned to get up early to beat the crowds there, but that didn't quite happen.  We had a lazy morning, but it didn't matter much because the beach was still empty when we got there.  However, it did start filling up quickly after that.
We were remembering another Memorial Day weekend we has gone to the beach while we were dating.  It was freezing, and the wind was so hard the sand was blowing in our faces.  Much better experience this year.