Most of you already know my husband, but I thought that in honor of our anniversary month you should all meet him officially.  We were married on October 21, 2006 which will make this our four year anniversary!  There will be more about wedding memories later, but for now here is a little bit about Jesse: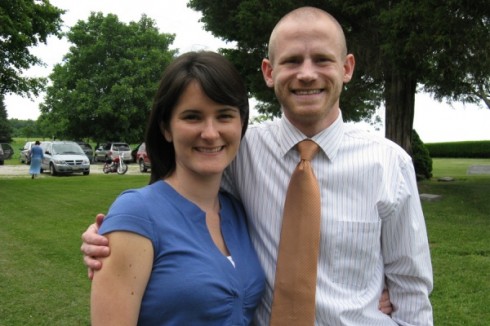 What do you do for a living?
I am trying to stop being a jack of all trades and focus, but for now, I'm an entrepreneur with a Web design/small business consulting/graphic design company that you happen to also be an owner of. My day consists of reading and responding to about 100 e-mails per day, staying on Twitter to follow the latest design/site/social media trends, and working some magic on the Interwebs for clients. It may not seem like I'm "working" much during the day, but it takes a lot of work to get "work," keep it, and the processes going to completion to get paid.
How did you and I meet,  how long have we been together, and when did you first know that you wanted to get married?
I think we first met either at youth group or at a youth event that I was chaperoning, but you know my memory isn't good enough to remember exactly which. 😉 I DO remember the first time I saw you, though. Definitely cute, but it took about 2 hours for me to find out that you were 16 and I was 21 at the time. We started dating during the Summer of 2002, after you graduated high school and dated for almost 4 years before I popped the question and we got married 4 months after that.
I knew I wanted to marry someone with your qualities before I asked you out and saw dating as a way to be sure we should get married. I knew within the first week of dating that you were the one, as long as YOU would have me with all of my flaws.
What is the best part about being married and living together so far?
Too hard to choose that one thing, so here's what is best as a package: not coming home to an empty apartment and fixing a meal to eat alone OR having to go out and spend money to eat elsewhere with other people. Having someone on my team to make it our team, who has the same life goals and who has your back and to cover your back.
What is the hardest thing about living with me?
Your indecisiveness. How was that for decisive? I'm rarely going to dilly-dally with a decision, but you like to hem and haw about things, discuss them 12 times for 10-30 minutes each. It drives me crazy, but it also saves us from making bad decisions… most of the time. As much as it drives me crazy, I really shouldn't want to change it, so I won't.
What thing(s) do you want to share that you think people should know about me?
You are more social than I am, but being around me for so long and having such extroverted jobs has made you quieter and work wears you out and makes you want to just relax at night, but you really do like to go out and do things. I like to go out and do things with you, too, but we've fallen into a pattern of staying home because we're wiped out. I want people to know that you are up to doing things more as long as you have the energy.
What are your top three favorite blogs to read?
The first two are no-brainers: http://www.problogger.net and http://www.chrisbrogan.com because they are the biggest names in the area I want to move into as I progress with our company and my skills. Other than those, I don't really frequent blogs aside from the ones that get linked in my Twitter stream because I don't have time set aside in my day to go looking at blogs like I used to when I had my corporate job (lunch… and any other time I wasn't freaking out over a deadline). I see a LOT (read: a ton) of blogs in a week, but I don't see each blog every day and would go crazy if I subscribed to them in my inbox or in an RSS reader, so I let Twitter be my filter for what is good and what is mediocre or crap.