This week's Flash Me Friday is your favorite cold weather comfort food. Jen, from The Groettum Family blog, decided to switch it up this week and have us all share a recipe that we love. Join the fun and share your favorite too!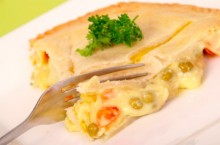 One of our favorites is chicken pot pie. This recipe is a mix of a few recipes for pot pie that I altered to our taste and to make it quicker.
1/3 cup butter
1/3 cup flour
1/3 cup chopped onion (or I use onion flakes)
1/2 tsp salt
1/4 pepper
1 3/4 chicken broth
2/3 cup milk
2 cups cooked chicken
1 bag of frozen mixed veggies (or I use leftover veggies if we have them)
1 tube Pillsbury crescent rolls
Heat butter in saucepan until melted. Blend in flour, onion, salt, and pepper. Simmer. Slowly stir in milk and chicken broth (a little at a time). Boil while stirring until sauce is thick, but still creamy. Stir in chicken and veggies.
I like to use an 8 x 8 baking dish. Spray the bottom with cooking spray. Place half the tube of crescent rolls on the bottom, press seems together. Add chicken mixture, and top with second half of crescent rolls. Bake according to directions on crescent rolls. Enjoy!
I think the crescent rolls are better than a pie crust because they are buttery and flaky, and the cook really fast! We usually eat half and save the other half for yummy leftovers.